Overseas vs Domestic Apparel Manufacturing – 3 minute read
How to choose between overseas and domestic apparel manufacturing

?

 

What's best for your business?
In January, we highlighted four logistics concerns impacting apparel imports in 2021. Many of these challenges continue to strain unstable apparel supply chains.                                                                                      
You know better than anyone how important a reliable supplier and supply chain is for your brand. A strong supply chain can elevate the perceived value of your apparel. A poor supply chain can plague your brand's image, price competitiveness and sales. We can't tell you which apparel sourcing strategy is right for your business …you know best. But here are three pros and cons to help you evaluate the right sourcing strategy in 2021/2022.
Domestic Manufacturing
The Pros of Domestic Manufacturing
1. Agile Lead Times. Domestic manufacturing is more flexible and quick – as your supplier is closer to your customers. North American factory lead times typically range from 30-60 days compared to 90-120 days with overseas manufacturers.
2. Lower MOQs. Domestic manufacturers have lower minimum order quantities. This can be attractive for small companies that can't afford carrying inventory, don't have space or aren't confident in their ability to forecast trends and sales. The minimum order quantities for overseas manufacturing is typically 1000 pieces per color per style.
3. Communications in your language and time zone. Being able to visit a factory in-person helps develop trust, perform quality checks and resolve issues early in the apparel manufacturing process.
The Cons of Domestic Manufacturing
1. Limited Customization. More than 95% of clothing sold in the U.S. is imported from overseas. Why? Because of the low cost and advanced brand customization capabilities. Domestic manufacturing is more "mechanized" than ever but can't compete with overseas manufacturers in the economies of scale for custom fabrication, styling, decorating and branding.
2. Lack of Skilled Labor & Experience. Building off point #1, just because a product is made domestically doesn't necessarily mean superior quality. Finding skilled labor is a huge challenge in North America which impacts price and quality.
3. Higher Costs. We've yet to see a domestic manufacturer come close to matching overseas prices. Lower downstream logistics costs and smaller inventory requirements of domestic manufacturing can save money, but price per unit is still higher.
Overseas Manufacturing
The Pros of Overseas Manufacturing
1. Outstanding Customization Capabilities. Domestic suppliers can manufacture basic T-shirts, for example, without paying someone to sit at a sewing machine BUT can't compete with overseas manufacturing on customization, quality and scale. Decorating stock blanks has limitations as well. For example, a baseball cap decorated locally on a finished blank has a logo size limitation, it will be smaller than a logo that is embroidered at the flat panel stage overseas.
2. Skilled Labor & Experience. Countries like China, India, Cambodia and Vietnam have developed outstanding textile capabilities and huge pools of experienced, skilled apparel workers. It's unlikely North America will invest heavily in the textile industry while it's still so much cheaper to produce overseas.
3. Lower Costs. Even with import taxes and shipping factored in, it is still much less expensive to manufacture clothing overseas. JJM has been working with the top world-class factories for over twenty years producing specialty apparel for private label clients and large brands. We get the best price, quality and lead times for our clients.
The Cons of Overseas Manufacturing
1. Language and Time Zones. Communicating with overseas suppliers can be extremely challenging due to language, time zones and distance.
JJM has feet on the ground in Asia and a team of apparel experts in North America who communicate in your language and time zone. JJM's quotes include a hands-on apparel expert who manages your program and Landed-Duty Paid shipping in your currency. We shoulder the exchange risk. The final price you (the buyer) pays for delivery of goods from originating port to your warehouse is included in our quote. JJM takes responsibility for paying the duties, freight, admin and broker fees. There are no extra fees or surprises. Our clients tell us we've saved them time, costly mistakes and appreciate the peace of mind knowing we take on the risk and handle the details.
2. Brand Image – Social Compliance Concerns. Fair labor practices and raw material sourcing are two overseas manufacturing concerns we should all care about. Today's supply chain eco-system is very complicated. One third of the global textile exports come from China and China's textile industry accounts for over 60% of world chemical and synthetic fiber production. About 20% of the world's cotton comes from the Xinjiang region of China. This means textiles used to manufacture products domestically are not immune from human rights issues.
JJM's President has witnessed factories with working conditions he would never accept…many producing for familiar brands. JJM grades its factories from A to F based on cleanliness, organization, structure and integrity. This very successful strategy ensures every factory in JJM's network is Grade A.
3. Feet on the Ground. Most overseas manufactures do not have a North American team with feet on the ground.
Because JJM has Feet on the Ground in Asia, we are able to communicate client needs in-person, perform quality audits, handle issues in real time and assess factory labor and safety practices. Performing these stress tests mitigates risk to us, our clients and brands.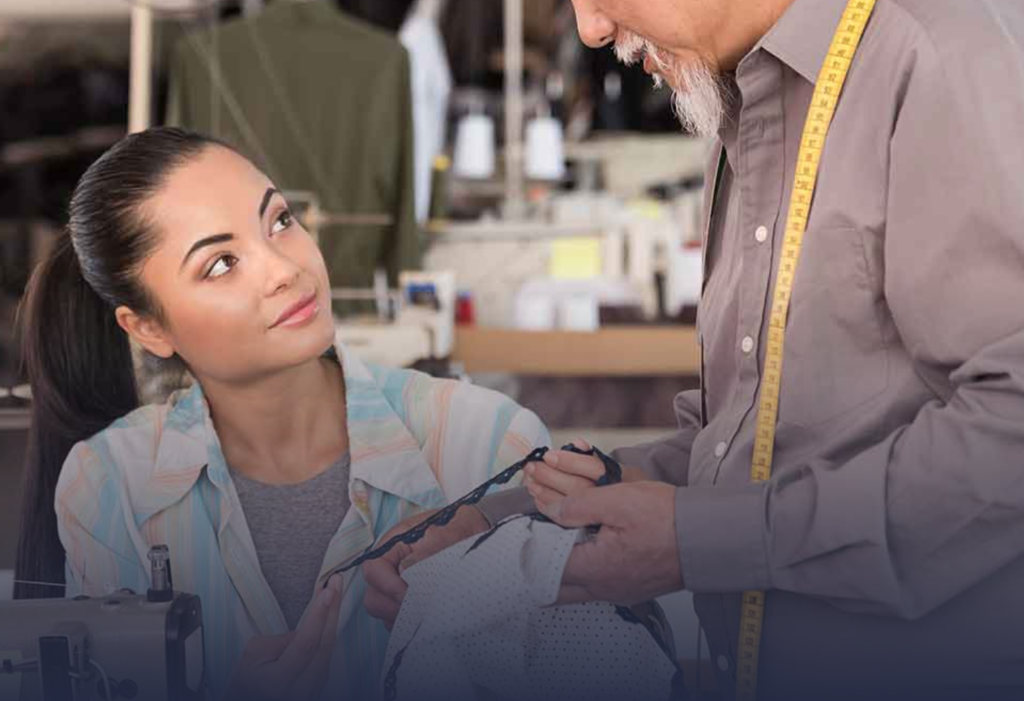 Choosing the right supply chain partner
JJM has feet on the ground in Asia to mitigate the main concerns associated with overseas manufacturing. Our mission is to make your apparel manufacturing experience easy and stress-free.